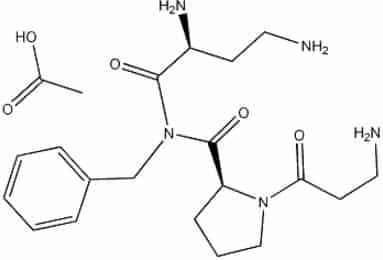 (2S)-beta-Alanyl-L-prolyl-2,4-diamino-N-(phenylmethyl)butanamide acetate CAS 823202-99-9
Identification
Properties
Safety Data
Specifications & Other Information
Links
Identification
CAS Number
823202-99-9
Name
(2S)-beta-Alanyl-L-prolyl-2,4-diamino-N-(phenylmethyl)butanamide acetate
Synonyms
Acide acétique – β-alanyl-N-[(2S)-4-amino-1-(benzylamino)-1-oxo-2-butanyl]-L-prolinamide (2:1) [French] [ACD/IUPAC Name]
L-Prolinamide, β-alanyl-N-[(1S)-3-amino-1-[[(phenylmethyl)amino]carbonyl]propyl]-, acetate (1:2) [ACD/Index Name]
β-Alanyl-N-[(2S)-4-amino-1-(benzylamino)-1-oxo-2-butanyl]-L-prolinamidacetat (1:2) [German] [ACD/IUPAC Name]
β-Alanyl-N-[(2S)-4-amino-1-(benzylamino)-1-oxo-2-butanyl]-L-prolinamide acetate (1:2) [ACD/IUPAC Name]
823202-99-9 [RN]
DIPEPTIDE DIAMINOBUTYROYL BENZYLAMIDE DIACETATE
UNII:38H206R00R
UNII-38H206R00R
SMILES
CC(=O)O.CC(=O)O.c1ccc(cc1)CNC(=O)[C@H](CCN)NC(=O)[C@@H]2CCCN2C(=O)CCN
StdInChI
InChI=1S/C19H29N5O3.2C2H4O2/c20-10-8-15(18(26)22-13-14-5-2-1-3-6-14)23-19(27)16-7-4-12-24(16)17(25)9-11-21;2*1-2(3)4/h1-3,5-6,15-16H,4,7-13,20-21H2,(H,22,26)(H,23,27);2*1H3,(H,3,4)/t15-,16-;;/m0../s1
StdInChIKey
HSUGRPOJOBRRBK-SXBSVMRRSA-N
Molecular Formula
C23H37N5O7
Molecular Weight
495.569
Properties
Appearance
White to off-white powder
Safety Data
WGK Germany
3
Specifications and Other Information of Our (2S)-beta-Alanyl-L-prolyl-2,4-diamino-N-(phenylmethyl)butanamide acetate CAS 823202-99-9
Standard
Enterprise standard
Identification Methods
HPLC
Purity
98%min
Peptide Content
65%min
Acetic acid
25%max
Water
8.0%max
Peptide Content
65%min
Single Impurity
1.0% max
Total Impurities
2.0%max
Package
2g/HDPE bottle
Production capacity
15kg/month
Shelf life
In the above storage condition,the shelf life is 2 years.
Storage
Common storage 2-8 C ,long time storage -20 C
Functions
AKE is an small tripetide,it is having similar structure with
snake venom, it helps to make loose skin vitalized, firm and healthy. Pure cotton sheet softly covers the face and provides smooth finish.
Application
•Faces Neck, hand care
•Eye round care
•anti-wrinkrl
Links
Watson International Ltd
This product is sold exclusively through our sales company Watson International Ltd, and please click the link below for details.
链接地址填写