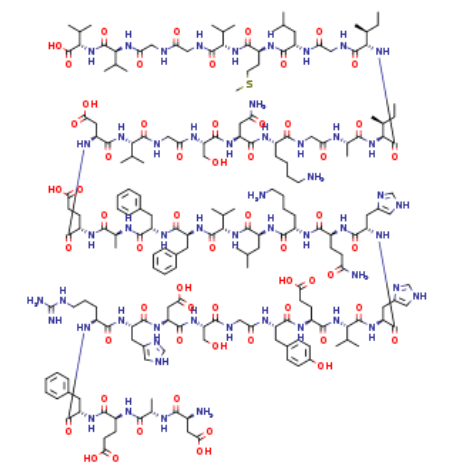 beta-Amyloid(1-40), CAS 131438-79-4
Identification
CAS Number
131438-79-4
Name
Beta-Amyloid(1-40)
Peptide sequence
Asp-Ala-Glu-Phe-Arg-His-Asp-Ser-Gly-Tyr-Glu-Val-His-His-Gln-Lys-Leu-Val-Phe-Phe-Ala-Glu-Asp-Val-Gly-Ser-Asn-Lys-Gly-Ala-Ile-Ile-Gly-Leu-Met-Val-Gly-Gly-Val-Val
Synonyms
131438-79-4 [RN]
Abeta(1-40)
Abeta40
Amyloid β-Peptide (1-40) (human)
Human β-amyloid peptide (1-40)
β-amyloid 40
β-amyloid protein 40
??-Amyloid(1-40) Human
[131438-79-4]
144409-98-3 [RN]
amyloid ?? protein fragment 1-40
Amyloid ?-Peptide (1-40) (human)
amyloid-β polypeptide 40
Asp-ala-glu-phe-arg-his-asp-ser-gly-tyr-glu-val-his-his-gln-lys-leu-val-phe-phe-ala-glu-as p-val-gly-ser-asn-lys-gly-ala-ile-ile-gly-leu-met-val-gly-gly-val-val
Asp-Ala-Glu-Phe-Arg-His-Asp-Ser-Gly-Tyr-Glu-Val-His-His-Gln-Lys-Leu-Val-Phe-Phe-Ala-Glu-Asp-Val-Gly-Ser-Asn-Lys-Gly-Ala-Ile-Ile-Gly-Leu-Met-Val-Gly-Gly-Val-Val
DAEFGHDSGFEVRHQKLVFFAEDVGSNKGAIIGLMVGGVV
DAEFRHDSGYEVHHQKLVFFAEDVGSNKGAIIGLMVGGVV
https://www.ebi.ac.uk/chebi/searchId.do?chebiId=CHEBI:64646
L-α-aspartyl-L-alanyl-L-α-glutamyl-L-phenylalanyl-L-arginyl-L-histidyl-L-α-aspartyl-L-serylglycyl-L-tyrosyl-L-α-glutamyl-L-valyl-L-histidyl-L-histidyl-L-glutaminyl-L-lysyl-L-leucyl-L-valyl-L-phenylalanyl-L-phenylalanyl-L-alanyl-L-α-glutamyl-L-α-aspartyl-L-valylglycyl-L-seryl-L-asparaginyl-L-lysylglycyl-L-alanyl-L-isoleucyl-L-isoleucylglycyl-L-leucyl-L-methionyl-L-valylglycylglycyl-L-valyl-L-valine
MFCD00130509
MFCD00717583
Rat amyloid-β peptide 1-40
β-amyloid polypeptide 40
β-amyloid(1-40) human
SMILES
[H]/N=C(\N)/NCCC[C@@H](C(=O)N[C@@H](Cc1cnc[nH]1)C(=O)N[C@@H](CC(=O)O)C(=O)N[C@@H](CO)C(=O)NCC(=O)N[C@@H](Cc2ccc(cc2)O)C(=O)N[C@@H](CCC(=O)O)C(=O)N[C@@H](C(C)C)C(=O)N[C@@H](Cc3cnc[nH]3)C(=O)N[C@@H](Cc4cnc[nH]4)C(=O)N[C@@H](CCC(=O)N)C(=O)N[C@@H](CCCCN)C(=O)N[C@@H](CC(C)C)C(=O)N[C@@H](C(C)C)C(=O)N[C@@H](Cc5ccccc5)C(=O)N[C@@H](Cc6ccccc6)C(=O)N[C@@H](C)C(=O)N[C@@H](CCC(=O)O)C(=O)N[C@@H](CC(=O)O)C(=O)N[C@@H](C(C)C)C(=O)NCC(=O)N[C@@H](CO)C(=O)N[C@@H](CC(=O)N)C(=O)N[C@@H](CCCCN)C(=O)NCC(=O)N[C@@H](C)C(=O)N[C@@H]([C@@H](C)CC)C(=O)N[C@@H]([C@@H](C)CC)C(=O)NCC(=O)N[C@@H](CC(C)C)C(=O)N[C@@H](CCSC)C(=O)N[C@@H](C(C)C)C(=O)NCC(=O)NCC(=O)N[C@@H](C(C)C)C(=O)N[C@@H](C(C)C)C(=O)O)NC(=O)[C@H](Cc7ccccc7)NC(=O)[C@H](CCC(=O)O)NC(=O)[C@H](C)NC(=O)[C@H](CC(=O)O)N
StdInChI
InChI=1S/C194H295N53O58S/c1-25-102(19)158(188(299)211-87-143(256)218-124(67-94(3)4)174(285)228-123(62-66-306-24)172(283)241-152(96(7)8)186(297)209-83-140(253)206-84-145(258)240-154(98(11)12)191(302)245-157(101(17)18)193(304)305)247-192(303)159(103(20)26-2)246-162(273)104(21)215-141(254)85-207-164(275)116(47-36-38-63-195)223-181(292)133(77-139(199)252)234-185(296)137(90-249)220-144(257)88-210-187(298)153(97(9)10)242-184(295)135(79-151(269)270)235-170(281)121(56-60-147(261)262)222-161(272)106(23)217-173(284)127(69-107-41-30-27-31-42-107)231-177(288)129(71-109-45-34-29-35-46-109)237-189(300)156(100(15)16)244-183(294)125(68-95(5)6)229-166(277)117(48-37-39-64-196)224-168(279)119(54-58-138(198)251)226-178(289)130(73-111-80-202-91-212-111)233-180(291)132(75-113-82-204-93-214-113)238-190(301)155(99(13)14)243-171(282)122(57-61-148(263)264)227-175(286)126(72-110-50-52-114(250)53-51-110)219-142(255)86-208-165(276)136(89-248)239-182(293)134(78-150(267)268)236-179(290)131(74-112-81-203-92-213-112)232-167(278)118(49-40-65-205-194(200)201)225-176(287)128(70-108-43-32-28-33-44-108)230-169(280)120(55-59-146(259)260)221-160(271)105(22)216-163(274)115(197)76-149(265)266/h27-35,41-46,50-53,80-82,91-106,115-137,152-159,248-250H,25-26,36-40,47-49,54-79,83-90,195-197H2,1-24H3,(H2,198,251)(H2,199,252)(H,202,212)(H,203,213)(H,204,214)(H,206,253)(H,207,275)(H,208,276)(H,209,297)(H,210,298)(H,211,299)(H,215,254)(H,216,274)(H,217,284)(H,218,256)(H,219,255)(H,220,257)(H,221,271)(H,222,272)(H,223,292)(H,224,279)(H,225,287)(H,226,289)(H,227,286)(H,228,285)(H,229,277)(H,230,280)(H,231,288)(H,232,278)(H,233,291)(H,234,296)(H,235,281)(H,236,290)(H,237,300)(H,238,301)(H,239,293)(H,240,258)(H,241,283)(H,242,295)(H,243,282)(H,244,294)(H,245,302)(H,246,273)(H,247,303)(H,259,260)(H,261,262)(H,263,264)(H,265,266)(H,267,268)(H,269,270)(H,304,305)(H4,200,201,205)/t102-,103-,104-,105-,106-,115-,116-,117-,118-,119-,120-,121-,122-,123-,124-,125-,126-,127-,128-,129-,130-,131-,132-,133-,134-,135-,136-,137-,152-,153-,154-,155-,156-,157-,158-,159-/m0/s1
StdInChIKey
FEWOUVRMGWFWIH-ILZZQXMPSA-N
Molecular Formula
C194H295N53O58S
Molecular Weight
4329.80
MDL Number
MFCD00130509
Properties
Appearance
White powder
Safety Data
Personal Protective Equipment
dust mask type N95 (US),Eyeshields,Gloves
RIDADR
NONH for all modes of transport
WGK Germany
3
Specifications and Other Information of Our Beta-Amyloid(1-40), CAS 131438-79-4
Identification Methods
HNMR, HPLC
Purity
98% min
Absorption coefficient
1280 M-1cm-1
PI,isoelectric point
pH 5.17
Net charge at pH 7
-2.7
Solubility evaluation
Poor water solubility
Toxicity mechanism of Amyloid oligomer
The effect on oxidative stress. Aβ can induce oxidative stress, produce a large number of free radicals, and then produce oxidative stress on neurons.
Cause Ca2+ disorder. Aβ destroys the K+ channel on the cell membrane, causing a large amount of Ca2+ influx.
Interaction with receptors on the cell membrane surface. Amyloid oligomers can activate excitatory NMDA2RS receptors, causing mitochondrial disorders and neuronal death.
Amyloid in cells is also an important pathological feature. A large number of oligomers in the cells cause pathology. The production and degradation of Amyloid secreted by normal cells is relatively balanced.
Break the balance between Bax and Bel-2.
Shelf Life
2 years
Storage
Store at -20°C or -80°C for long time, Sealed and away from light
Known Application
Often used to study Alzheimer's disease.
Links
Watson International Ltd
This product is sold exclusively through our sales company Watson International Ltd, and please click the link below for details.
http://www.watson-int.com/beta-amyloid1-40-cas-131438-79-4/