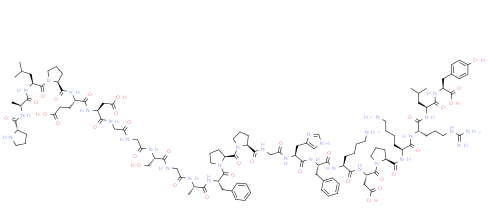 Fibroblast Growth Factor CAS 62031-54-3
Identification
CAS Number
62031-54-3
Name
Fibroblast Growth Factor
Sequence
H-Lys-Arg-Thr-Gly-Gln-Tyr-Lys-Leu-OH
Synonyms
L-Prolyl-L-alanyl-L-leucyl-L-prolyl-L-α-glutamyl-L-α-asparagylglycylglycyl-L-serylglycyl-L-alanyl-L-phenylalanyl-L-prolyl-L-prolylglycyl-L-histidyl-L-phenylalanyl-L-lysyl-L-α-asparagyl-L-p rolyl-L-lysyl-L-arginyl-L-leucyl-L-tyrosin [German] [ACD/IUPAC Name]
L-Prolyl-L-alanyl-L-leucyl-L-prolyl-L-α-glutamyl-L-α-aspartylglycylglycyl-L-serylglycyl-L-alanyl-L-phenylalanyl-L-prolyl-L-prolylglycyl-L-histidyl-L-phenylalanyl-L-lysyl-L-α-aspartyl-L-pro lyl-L-lysyl-L-arginyl-L-leucyl-L-tyrosine [ACD/IUPAC Name]
L-Prolyl-L-alanyl-L-leucyl-L-prolyl-L-α-glutamyl-L-α-aspartylglycylglycyl-L-sérylglycyl-L-alanyl-L-phénylalanyl-L-prolyl-L-prolylglycyl-L-histidyl-L-phénylalanyl-L-lysyl-L-α-aspartyl-L-pro lyl-L-lysyl-L-arginyl-L-leucyl-L-tyrosine [French] [ACD/IUPAC Name]
L-Tyrosine, L-prolyl-L-alanyl-L-leucyl-L-prolyl-L-α-glutamyl-L-α-aspartylglycylglycyl-L-serylglycyl-L-alanyl-L-phenylalanyl-L-prolyl-L-prolylglycyl-L-histidyl-L-phenylalanyl-L-lysyl-L-α-as partyl-L-prolyl-L-lysyl-L-arginyl-L-leucyl- [ACD/Index Name]
211362-85-5 [RN]
62031-54-3 [RN]
MFCD00133317
SMILES
C[[email protected]@H](C(=O)N[[email protected]@H](Cc1ccccc1)C(=O)N2CCC[[email protected]]2C(=O)N3CCC[[email protected]]3C(=O)NCC(=O)N[[email protected]@H](Cc4c[nH]cn4)C(=O)N[[email protected]@H](Cc5ccccc5)C(=O)N[[email protected]@H](CCCCN)C(=O)N[[email protected]@H](CC(=O)O)C(=O)N6CCC[[email protected]]6C(=O)N[[email protected]@H](CCCCN)C(=O)N[[email protected]@H](CCCNC(=N)N)C(=O)N[[email protected]@H](CC(C)C)C(=O)N[[email protected]@H](Cc7ccc(cc7)O)C(=O)O)NC(=O)CNC(=O)[[email protected]](CO)NC(=O)CNC(=O)CNC(=O)[[email protected]](CC(=O)O)NC(=O)[[email protected]](CCC(=O)O)NC(=O)[[email protected]@H]8CCCN8C(=O)[[email protected]](CC(C)C)NC(=O)[[email protected]](C)NC(=O)[[email protected]@H]9CCCN9
StdInChI
InChI=1S/C118H173N31O33/c1-64(2)49-78(107(171)145-85(117(181)182)53-70-35-37-72(151)38-36-70)139-104(168)76(30-18-44-125-118(121)122)135-103(167)75(28-14-16-42-120)137-111(175)88-32-21-46-147(88)115(179)84(56-97(160)161)144-105(169)74(27-13-15-41-119)136-108(172)79(51-68-23-9-7-10-24-68)140-109(173)80(54-71-57-123-63-130-71)133-94(155)61-129-110(174)87-31-19-47-148(87)116(180)90-34-22-48-149(90)114(178)83(52-69-25-11-8-12-26-69)143-98(162)66(5)131-92(153)60-128-101(165)86(62-150)134-93(154)59-126-91(152)58-127-100(164)81(55-96(158)159)141-106(170)77(39-40-95(156)157)138-112(176)89-33-20-45-146(89)113(177)82(50-65(3)4)142-99(163)67(6)132-102(166)73-29-17-43-124-73/h7-12,23-26,35-38,57,63-67,73-90,124,150-151H,13-22,27-34,39-56,58-62,119-120H2,1-6H3,(H,123,130)(H,126,152)(H,127,164)(H,128,165)(H,129,174)(H,131,153)(H,132,166)(H,133,155)(H,134,154)(H,135,167)(H,136,172)(H,137,175)(H,138,176)(H,139,168)(H,140,173)(H,141,170)(H,142,163)(H,143,162)(H,144,169)(H,145,171)(H,156,157)(H,158,159)(H,160,161)(H,181,182)(H4,121,122,125)/t66-,67-,73-,74-,75-,76-,77-,78-,79-,80-,81-,82-,83-,84-,85-,86-,87-,88-,89-,90-/m0/s1
StdInChIKey
YSFTYXKQUONNFY-NQXPEFQPSA-N
Molecular Formula
C118H173N31O33
Molecular Weight
2553.824
MDL Number
MFCD00166724
Properties
Appearance
White or off-white lyophilized powder
Safety Data
Personal Protective Equipment
dust mask type N95 (US), Eyeshields, Gloves
RIDADR
NONH for all modes of transport
WGK Germany
3
Specifications and Other Information of Our Fibroblast Growth Factor CAS 62031-54-3
Description
Recombinant human basic fibroblast growth factor (also known as basic FGF, bFGF, FGF2, FGF-β or heparin-binding growth factor) is a biologically active protein suitable for cell culture applications. The bFGF regulates various processes such as cell proliferation, differentiation, survival, adhesion, exercise, apoptosis, limb formation and wound healing. The bFGF can be used for angiogenesis, fibroblast mitosis, axonal growth of PC-12 cells, receptor binding and tyrosine phosphorylation studies.
The product is lyophilized powder prepared by recombinant E.coli expression, separated and purified by multiple steps, dissolve in 10mM PBS, 0.15 M NaCl (pH7.2) solution and then sterilized by filtration through a 0.22μm filter membranes and freeze-dried.
Advantage
No animal origin: no animal diseases, no pathogenic substances, no contamination by exogenous factors, and high safety.
Quality stability: This product is a lyophilized powder containing a biologically active protective agent. It has been mass-produced, and the difference between batches is small; the production scale is more than 1000L.
Properties
| | |
| --- | --- |
| Species | Human |
| Source | E.coli |
| MW | 17.3KD±1.7kDa |
| Purity | ≥95%(SDS-PAGE) |
| Endotoxin | < 0.2 EU/µg |
| Aseptic | Filter and sterilize with 0.22μm filter before freeze-drying |
| Isoelectric point | 9.5-9.6 |
| Activity | ≥5.0 x 106IU /mg pro. |
| Solubility | Good solubility in water, buffer, and medium |
Biological activity
The biological activity of the mouse fibroblast cell line BALB/3T3 was determined by the method of Chinese Pharmacopoeia 2020 edition using bFGF.
Recommended Method
It is recommended centrifuging the powder to the bottom of the tube before opening the lid, then dissolve it in sterilized demonized water to prepare a storage solution of 100 μg/ml. It can be stored stably for 2 weeks at 2℃ ~ 8℃.When diluted to a lower concentration (not less than 10μg/ml), 0.1% tissue culture grade BSA or HSA is required. If it is necessary to extend the storage time, it is recommended to freezing at -80℃ or -20℃ rather than multigelation.This product should be established by experiment to determine the optimum concentration according to each specific application.
Transport and Storage Stability
Transportation stability: It is transported in an ice pack to keep it active.
Storage stability: stable to 12 months at -15~-20°C and 24 months at -80°C, stable to 4 weeks at 2~8℃. Prepare as a storage solution of 100μg/ml, stable storage at 2~8℃ for one week.
Known Application
Used in cell culture to enhance cell proliferation, cell growth and cell differentiation.
Links
This product is developed by our R&D company Watson International Ltd (https://www.watson-int.com/).