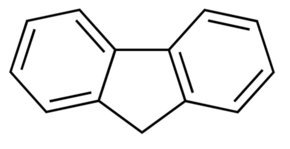 Fluorene CAS 86-73-7
Identification
CAS Number
86-73-7
Name
Fluorene
Synonyms
1363491 [Beilstein]
201-695-5 [EINECS]
86-73-7 [RN]
9H-Fluoren [German] [ACD/IUPAC Name]
9H-Fluorene [ACD/Index Name] [ACD/IUPAC Name]
9H-Fluorène [French] [ACD/IUPAC Name]
Fluorene [Wiki]
MFCD00001111 [MDL number]
&α;-diphenylenemethane-9H-fluorene
(2S)-6-amino-2-(phenylmethoxycarbonylamino)hexanethioic acid S-(phenylmethyl) ester
158140-08-0 [RN]
2,2′-Methylenebiphenyl
2,3-benzindene
2,3-BENZOINDENE
2-21-METHYLENBIPHENYL
40870-59-5 [RN]
81103-79-9 [RN]
9H-FLUOREN-9-YL
9H-fluorene (en)
Diphenylenemethane
Flourene
FLUOREN
fluorene standard
fluorene, reagent
Fluorene-13C6
Fluorene-d10
Methane, diphenylene-
o-biphenylenemethane
o-biphenylmethane
ortho-Biphenylenemethane
para-Biphenylmethane
p-Biphenylmethane
t3db
α-diphenylenemethane-9H-fluorene
SMILES
c1ccc-2c(c1)Cc3c2cccc3
StdInChI
InChI=1S/C13H10/c1-3-7-12-10(5-1)9-11-6-2-4-8-13(11)12/h1-8H,9H2
StdInChIKey
NIHNNTQXNPWCJQ-UHFFFAOYSA-N
Molecular Formula
C13H10
Molecular Weight
166.22
Beilstein Number
1363491
EC Number
201-695-5
MDL Number
MFCD00001111
Properties
Melting point
111-114 °C (lit.)
Safety Data
Personal Protective Equipment
Eyeshields, Gloves, type N95 (US), type P1 (EN143) respirator filter
RIDADR
UN 3077 9 / PGIII
WGK Germany
3
RTECS
LL5670000
Specifications and Other Information of Our Fluorene CAS 86-73-7
Production capacity
50MT/month
Storage
Sealed, keep in a cool, dry place and away from light
Known Application
Used as a raw material for organic synthesis. It can be made into trinitrofluorenone for electrostatic copying; synthetic aryl transparent nylon; can be used instead of hydrazine to synthesize indanthrene dye; used in the manufacture of anticonvulsants, sedatives, analgesics, blood pressure lowering drugs; Insecticides, herbicides; preparation of impact resistant plexiglass and furfural resin; can also be used as humectants, detergents, liquid glitters, disinfectants, etc.
Links
Watson International Ltd
This product is sold exclusively through our sales company Watson International Ltd, and please click the link below for details.
http://www.watson-int.com/fluorene-cas-86-73-7/