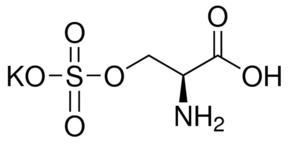 L-Serine O-sulfate potassium salt CAS 17436-02-1
Identification
CAS Number
17436-02-1
Name
L-Serine O-sulfate potassium salt
Synonyms
Kalium-O-sulfonato-L-serin [German] [ACD/IUPAC Name]
L-Serine O-sulfate potassium salt
L-Serine, O-sulfo-, potassium salt (1:1) [ACD/Index Name]
MFCD06808521
O-Sulfonato-L-sérine de potassium [French] [ACD/IUPAC Name]
Potassium O-sulfonato-L-serine [ACD/IUPAC Name]
L-SERINEO-SULFATEPOTASSIUMSALT
POTASSIUM (2S)-2-AMINO-3-(SULFONATOOXY)PROPANOIC ACID
SMILES
C([C@@H](C(=O)O)N)OS(=O)(=O)[O-].[K+]
StdInChI
InChI=1S/C3H7NO6S.K/c4-2(3(5)6)1-10-11(7,8)9;/h2H,1,4H2,(H,5,6)(H,7,8,9);/q;+1/p-1/t2-;/m0./s1
StdInChIKey
LXIPCUMLLKNUSU-DKWTVANSSA-M
Molecular Formula
C3H6NO6SK
Molecular Weight
223.25
MDL Number
MFCD06808521
Properties
Appearance
White powder
Safety Data
Personal Protective Equipment?
Eyeshields, Gloves, type N95 (US), type P1 (EN143) respirator filter
RIDADR
NONH for all modes of transport
WGK Germany
3
Specifications and Other Information of Our L-Serine O-sulfate potassium salt CAS 17436-02-1
Identification Methods
HPLC
Purity
95% min
Storage
Under room temperature away from light
Productivity
Kilograms scale
Known Application
Commonly used in Linker reagents to synthesize peptides.
Links
Watson International Ltd
This product is sold exclusively through our sales company Watson International Ltd, and please click the link below for details.
http://www.watson-int.com/l-serine-o-sulfate-potassium-salt-cas-17436-02-1/