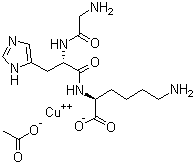 Prezatide copper acetate CAS 130120-57-9

Identification
Properties
Safety Data
Specifications & Other Information
Links
Identification
CAS Number
130120-57-9
Name
Prezatide copper acetate
Synonyms
L-Lysine, glycyl-L-histidyl-, acetate, copper(2+) salt (1:1:1) [ACD/Index Name]
130120-57-9 [RN]
PC1020 acetate
Prezatide copper acetate
Prezatide copper acetate [USAN:INN] [INN] [USAN]
SMILES
CC(=O)O.c1c([nH]cn1)C[C@@H](C(=O)N[C@@H](CCCCN)C(=O)O)NC(=O)CN.[Cu+2]
StdInChI
InChI=1S/C14H24N6O4.C2H4O2.Cu/c15-4-2-1-3-10(14(23)24)20-13(22)11(19-12(21)6-16)5-9-7-17-8-18-9;1-2(3)4;/h7-8,10-11H,1-6,15-16H2,(H,17,18)(H,19,21)(H,20,22)(H,23,24);1H3,(H,3,4);/q;;+2/t10-,11-;;/m0../s1
StdInChIKey
PBAQNGMOINVZLP-ULEGLUPFSA-N
Molecular Formula
C16H28CuN6O6
Molecular Weight
463.98
Properties
Appearance
Blue powder
Specifications and Other Information of Our Prezatide copper acetate CAS 130120-57-9
Standard
Enterprise standard
Identification Methods
HPLC
Purity
95%min
Water
8.0%max
Amino acid
15%max
Dosage
0.01-5%
Package
1g,10g,50g,100g/plastic bottle.
Shelf life
In the above storage condition,the shelf life is 2 years.
Storage
Common storage 2-8℃ ,long time storage -20℃
Application
•For wound healing and anti-aging
•Hair growth stimulator treatment
Functions
Promotes 'extra large' collagen aggregates degradation, more regularly collagen synthesis, elastin, proteoglycans, glycosaminoglycans production and anti-inflammatory and antioxidant responses.
Links
Watson International Ltd
This product is sold exclusively through our sales company Watson International Ltd, and please click the link below for details.
http://www.watson-int.com/prezatide-copper-acetate-cas-130120-57-9/