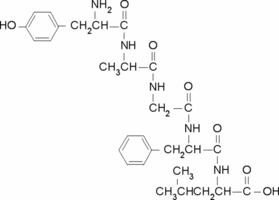 Tyrosylalanylglycylphenylalanylleucine CAS 64963-01-5
Identification
Properties
Safety Data
Specifications & Other Information
Links
Identification
CAS Number
64963-01-5
Sequence
Tyr-D-Ala-Gly-Phe-Leu
Name
Tyrosylalanylglycylphenylalanylleucine
Synonyms
Leucine, tyrosylalanylglycylphenylalanyl- [ACD/Index Name]
Tyrosylalanylglycylphenylalanylleucin [German] [ACD/IUPAC Name]
Tyrosylalanylglycylphenylalanylleucine [ACD/IUPAC Name]
Tyrosylalanylglycylphénylalanylleucine [French] [ACD/IUPAC Name]
[D-Ala2, D-Leu5]-enkephalin
[D-Ala2] Leu-Enkephalin
2-[[2-[[2-[2-[[2-amino-3-(4-hydroxyphenyl)propanoyl]amino]propanoylamino]acetyl]amino]-3-phenylpropanoyl]amino]-4-methylpentanoic acid
2-[2-(2-{2-[2-amino-3-(4-hydroxyphenyl)propanamido]propanamido}acetamido)-3-phenylpropanamido]-4-methylpentanoic acid
2-[2-(2-{2-[2-Amino-3-(4-hydroxy-phenyl)-propionylamino]-propionylamino}-acetylamino)-3-phenyl-propionylamino]-4-methyl-pentanoic acid
2-Alanyl-leucine enkephalin
5-Leucine-2-alanine enkephalin
63631-40-3 [RN]
64963-01-5 [RN]
94825-57-7 [RN]
DADL
DADLE [Wiki]
Enkephalin, leucine-2-alanine
Enkephalin-leu,ala(2)
Leucine enkephalin-2-alanine
ZINC14952092
SMILES
CC(C)CC(C(=O)O)NC(=O)C(Cc1ccccc1)NC(=O)CNC(=O)C(C)NC(=O)C(Cc2ccc(cc2)O)N
StdInChI
InChI=1S/C29H39N5O7/c1-17(2)13-24(29(40)41)34-28(39)23(15-19-7-5-4-6-8-19)33-25(36)16-31-26(37)18(3)32-27(38)22(30)14-20-9-11-21(35)12-10-20/h4-12,17-18,22-24,35H,13-16,30H2,1-3H3,(H,31,37)(H,32,38)(H,33,36)(H,34,39)(H,40,41)
StdInChIKey
ZHUJMSMQIPIPTF-UHFFFAOYSA-N
Molecular Formula
C29H39N5O7
Molecular Weight
569.649
EINECS
265-291-0
MDL Number
MFCD00076409
Properties
Appearance
White to yellowish powder
Safety Data
RIDADR
NONH for all modes of transport
WGK Germany
3
Specifications and Other Information of Our Tyrosylalanylglycylphenylalanylleucine CAS 64963-01-5
Standard
Enterprise standard
Identification Methods
HPLC
Purity
95.0%min
Water
10%max
Acetic acid
15%max
Total Impurities
5.0%max
Package
lg,10g,50g,100g/plastic bottle or according to customer requirement.
Shelf life
In the above storage condition,the shelf life is 2 years.
Storage
Common storage 2-8 C ,long time storage -20 C
Functions
•Reducing the depth of wrinkles on the face.
•Targets in vitro the wrinkle-formation mechanism of expression wrinkles in a new way, offering an alternative to peptides like Acetyl Hexapeptide-3.
•It can be incorporated in cosmetic formulations such as emulsions, gels,sera, etc., where removal of the deep lines or wrinkles in the forehead or around theeyes area is desired.
Application
Used as Cosmetic Peptides,Removal of the deep lines or wrinkles.
Links
Watson International Ltd
This product is sold exclusively through our sales company Watson International Ltd, and please click the link below for details.
http://www.watson-int.com/tyrosylalanylglycylphenylalanylleucine-cas-64963-01-5/